Last updated: January 1, 2021
The calendar of the most anticipated public holiday and religious days of the year has been announced. 2021 holiday calendarWhat's in there? How many days is the holiday of Ramadan? When is the feast of sacrifice? Request 2021 Public holidays calendar.
What day are the 2021 public holidays?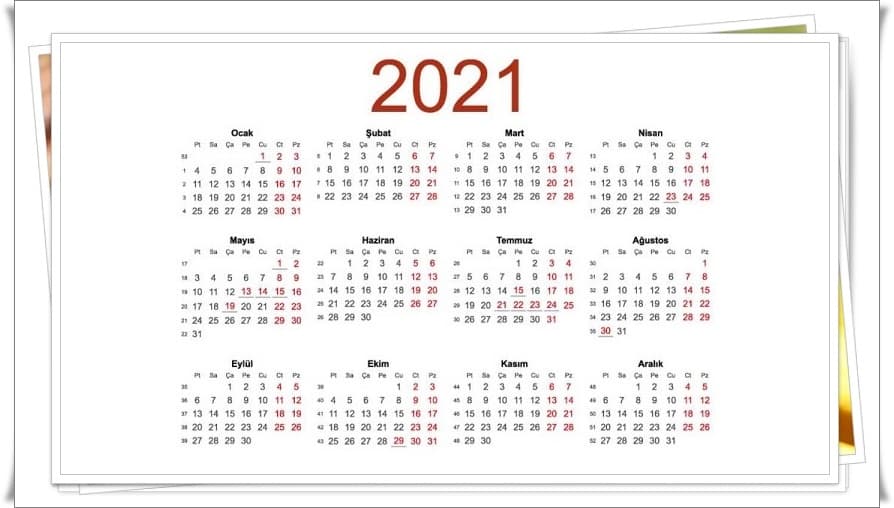 National Sovereignty and Children's Day – Friday, April 23
3 days, including 23 April holiday Friday-Saturday-Sunday
2021, corresponding to Friday, April 23 on the occasion of the opening of the Grand National Assembly of Turkey Commander in Chief Marshal Gazi Mustafa Kemal Ataturk was a gift by the children. The date of acceptance of the public holiday is 1921.
Labor and Solidarity Day – May 1, Saturday
2 days, 1 May Saturday and Sunday
Feast of Ramadan – 12-15 May Wednesday (half) -Saturday
On Wednesday, May 12, a half-day Ramadan holiday, a total of 4.5 days.
Commemoration of Atatürk, Youth and Sports Day – Wednesday, May 19
May 19 coincides with Wednesday in 2021. So the May 19 holiday is just 1 day.
Democracy and National Unity Day – 15 July Thursday
It coincides with Thursday on 15 July 2021. So the 15th of July holiday is only 1 day.
Feast of Sacrifice – 19-23 July Monday (half) -Friday
On Monday, July 19, that is half a day, but if this is combined, a full 9-day holiday can be made from Saturday, July 17.
victory Day – 30 August Monday
August 30 Victory Day coincides with Monday. There are 3 days off from Saturday.
Republic Day – 28-29 October Thursday (half) -Friday
Combined with the half day on Thursday, October 28, the 29th October holiday is 3.5 days