10 Best Video Players for Windows PC/Computer 2022 (Best Video Players list)
Best Video Players list: Everyone loves watching movies or video clips on their Windows PC laptops and computers. All you need is a better best video player that offers good sound and picture quality. There are hundreds of video players available on the internet and all claim to be good. Which puts you in confusion when it comes to choosing a good video player for a Windows PC. If you have a Windows computer and you are wondering which is the best video player, we can help you refine your search.
If you are also in such confusion, you are in the right place, because we have made a list of top 10 video players that you can choose for your Windows PC. So, should we start our list of best top 10 media players for Windows? It should be noted that we have taken into consideration several factors of each video player such as ease of use, distinctive features, etc. while creating this list and hopefully it helps the film-freak in you. here we listed best video players for windows laptop/pc/computer.
See also: Best Websites To Watch Horror Films Online Without Downloading
1. VLC Media Player
Without a doubt, VLC Media Player is one and the best video player for Windows PC. The player is simple but powerful. There is no spyware, no ads or tracking users.
VLC Media Player is compatible with different media formats (multiple input formats, audio formats, A / V outputs, video formats, subtitle formats and more). The drive is well suited for all versions of Windows, including Windows XP, Windows Vista, Windows 7, Windows 8, Windows 8.1 and Windows 10 operating system.
Supported Video formats: MPEG (ES,PS,TS,PVA,MP3), AVI, ASF / WMV / WMA, MP4 / MOV / 3GP, OGG / OGM / Annodex, Matroska (MKV), Real, WAV (including DTS), Raw Audio: DTS, AAC, AC3/A52, Raw DV, FLAC, FLV (Flash), MXF, Nut, Standard MIDI / SMF, Creative™ Voice.
VLC system requirements: VLC supports all version of windows starting Windows XP SP3 to the latest version of Windows 10.
VLC Media Player Download Link Click here.
2. PotPlayer
It uses fewer resources using CUDA, DXVA, and QuickSync and provides maximum performance. You have the option of choosing between two sound cards, previewing scenes with snapshots and bookmarking your favorite scene. You can make the video experience continue and even play. PotPlayer uses the hardware acceleration system and ensures that it gives you a lifetime experience.
PotPlayer supports Direct3D9 Ex Flip Mode and Overlay, supports multiple subtitles and supports many types of 3D glasses. It is not necessary to install different codecs when using the player. PotPlayer supports various devices such as TV, DVD, and HDTV.
Supported Video Formats:  All basic formats.
PotPlayer system requirements: Windows XP/2003/Vista/Server 2008/7/8/8.1.
PotPlayer Download Link here.
See also: Best Free MP3 Music Downloader Apps for Android 2017
3. KMPlayer
The KMPlayer is another great and free video player for Windows PC, which is versatile and can cover many formats without different Codec as it has an embedded codec. You can have the best experience of watching videos with KMPlayer. The video player supports more than 24 languages and high-resolution movies. It supports matrix/normalizer function when the internal audio codec is used.
If your computer does not support the high processor, but you want a good drive, you need to install the KMPlayer as it changes the environment into an easy multimedia format. There is a playback support for 3D, 4K, 2K movies for Windows. KMPlayer is user-friendly with Windows 2000, X, Vista, Windows 7 operating system and it requires only 30 MB of hard disk space.
Supported Video formats: RTS, MPEG1, MPEG2, AAC, WMA7, WMA8, OGG, etc.
KMPlayer recommended specs: 
Windows 2000/XP/Vista, (32bit)/Windows 7 (32bit)
Direct x9.0, 30 MB Hard disk space.
KMPlayer Download Link here.
4. GOM Media Player
Another free video player and the best, GOM Media Player was developed by the GOM laboratory and it is one of the best free software you can have when you would like to play almost all multimedia files. And is compatible with almost all versions of Windows, including Windows 10. It supports a wide range of video formats, including MKV, FLV, etc. with standard media formats.
Also, GOM Media Player has some advanced features when it comes to playing files, such as playback speed control, video effects, audio capture, AB repeat screen, etc. So in a nutshell, GOM Media Player is an impressive software.
Speaking of user interface and customization, GOM Media Player offers advanced level customization that supports different skins! You can download skins on the official GOM Player site and make GOM Player look like you like it. Also, there is a codec finder that helps you find enough codecs online when there is a rare file or if GOM Player misses this codec. Despite all this, GOM Media Player will work fine with a PC that runs Windows XP S2 or later.
Supported video and media Formats: flv,mp4, mov, mp3, .m4a, .aac, .ogg, .flac, .wav, mpg, ts, avi, divx, asx, wmv, m4v, dat, ifo, vob, 3gp/3gp2, rm/rmvb, mkv, ogm. Additional formats can be played with external codecs.
GOM Minimum System requirements:
Microsoft Windows 7 (32 / 64bit), 8 (32 / 64bit), Windows 8.1 (32 / 64bit), Vista (32 / 64bit), XP SP3 or higher (32 / 64bit)
AMD Athlon 64 or Intel Pentium 4 or equivalent
More than 16MB free RAM
More than 25MB free HDD space.
GOM Media Player Download Link Click here.
See also: Top Best Alternatives To IDM (Internet Download Manager)
4. 5KPlayer
5KPlayer is a media player, streaming media server and video downloader for Windows and MacOS. It is a sophisticated free media player offering a high-quality playback of 4K / 5K and even 8K FUHD movies iPhone 7 videos. It reads almost all multimedia files, including music, videos (UHD / Bluray / 3D / VR 360), DVDs on Mac OS and Windows with 7 surround sound.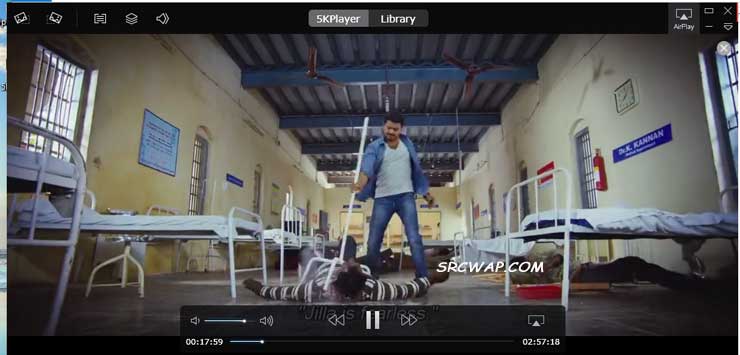 The free HD video player is also online music video downloader that supports up to 300 audio video online sites. No subscription, you can free download 4K 5K 8K Ultra HD or 1080P HD music videos online from not only YouTube, but also Facebook, Yahoo, DailyMotion, Vimeo, Vevo, Metacafe, Myspace, Vine, UStream, MTV, Instagram, Bliptv, LiveLeak, CBS slideshare and free music download from Soundcloud and other video sharing sites. 5KPlayer also converts online soundtracks to movie movies to MP3, AAC music format or ringtone as YouTube independent of MP3 Video Downloader and converter.
If you are tired of the complexity of VLC and you are looking for a more powerful alternative to the Mac OS X media player by default, 5KPlayer could be an excellent common ground.
Supported sites: YouTube, Facebook, DailyMotion, Vevo, Vimeo and other 300+ sites.
Supported Formats: All format.
GOM Minimum System requirements: 
Windows XP, Windows 2003, Windows Vista, Windows 7, Windows 8, Windows 8.1, Windows 10.
5KPlayer Download Link Click here. (paid version available)
See also: Best Face Swap Apps to Make Your Photos Hilarious
5. RealPlayer
RealPlayer is a freemium video player solution that is available for Windows PC. Rather than just letting you watch movies, there are enhanced options to share these videos across the cloud. Then you can access these files from the device you want, at any time. In addition to having good audio and video quality, the RealPlayer also allows you to watch and download videos online.
Even if the free version offers standard features, it seems correct for us to get the premium version by spending $ 4.99 per month, since you get a storage space of 365 GB. So if you have a good Internet connection in all devices, RealPlayer is worth trying.
There are also additional features such as the option to share your movies on the big screen, such as HDTVs, and you only need the application installed on your device. There is also an option to create bookmarks and keep them safe, so you do not miss a few of your favorite stuff. Overall, although a premium software, RealPlayer makes sense.
Supported Video formats: 3gp, m4v, rmvb, 3gp2, rv, avi, mp4, wav, EVRC, QCELP, wma, flv, ra, wmv, iv4, ram, iv4, m4a, rm.
RealPlayer 18 Plus minimum system requirements:
Hardware
RAM: 4GB
CPU: i3 or faster
Hard disk: Minimum 1.5 GB available free space.
Web browsers for downloading and bookmarking videos
Microsoft Internet Explorer 9 or later
Google Chrome current version, and two previous versions
Mozilla Firefox current version, and two previous versions
Edge (Windows 10 browser).
RealPlayer Download Link here (paid version available for $39.99)
Read more: Best Photo Editing Software for PC
6. Plex
Plex is one of the great multimedia players that helps you to record videos from any site and watch them whenever you want. In addition to using Plex on your computers and laptops, you can use this video player on mobile phones, TV and tablets. It has an online storage where you can record and store your favorite movies. It has wonderful DLNA support and high-quality certificates for all media servers.
Supported Video formats: All popular formats.
Plex system requirements:
At lewIntel Core 2 Duo processor 2.4 GHz or higher
OpenGL compatible graphics card.
At least 2GB RAM
Windows 7 SP1 or later (64-bit).
Plex Download link HERE (Free, Pro available for 299.99$).
7. MPC-HC
MPC-HC, in fact the acronym for Media Player Classic – Home Cinema, is another free software, when you prefer a lightweight desktop software to play different types of video files. Without any kind of intrusive toolbars or advertising material, MPC-HC offers a clean reading experience. It should be noted that, no matter how slight, MPC-HC can play almost all the heavy files you will have in your Windows PC.
Additional features of Media Player Classic include key commands and much more. Although built-in codec support allows you to play video files regardless of how their video formats are scarce, the availability of the 64-bit version will be useful when you need a stable and powerful version. Speaking of customization, MPC-HC can allow you to install toolbars and skins according to your tastes and preferences! In addition, MPC-HC has a portable version that extends its productivity to a new level. If we consider all these elements, MPC-HC is an excellent video player for Windows.
Supported Video formats: MP4, D2V, MOV, FLV, QT, SWF, WMA, WAV, OGG, MP3, AU, SND, AIF, AIFF, AIFC, AC3, VOB, ASX, DTS, PLS, WAX, M3U, WM, WMV, AVI, CDA, JPG, JPEG, PNG, GIF, BMP, MPEG, MIDI, MP2, MPG
Minimum system requirements: 
Windows® XP SP3, Vista, 7, 8, 8.1, 10 both 32-bit and 64-bit
MPC-HC Download Link HERE.
read more: Xender File Transfer : File Sharing Between Android to PC to Android
8. DivX Player
If you do not want to compromise the viewing experience of high-quality movies, including ultra-HD videos and HEVC playback, this is a good choice for DivX Player! DivX Player is actually designed for HQ video playback and cross-device streaming of your media files. Do not get me wrong on the name, DivX Player supports popular video formats such as AVI, MKV and MP4 with DIVX. The media server feature embedded in the DivX Player bundle allows you to stream media to various devices if they have DLNA support.
If we consider the case of playback, DivX Player has many features such as FF / RW that helps you to access the chapters of each video, better organization through playlists, advanced audio playback, play list. Recently integrated to make sure you can start from where you stopped. In general, DivX Player is really a good deal.
Supported Video formats: All popular video formats including AVI, MP4, MKV, H.264 and HEVC
DivX system requirements: Windows XP/Vista/7/8 and up.
DivX Player Download Link HERE.
9. UMPlayer
UMPlayer – Abbreviated form for Universal Media Player – is a software to check if you want to watch movies. It is a free and open source solution, and it will remain so forever; Additionally, you can trust the power of open source when you want a seamless movie viewing experience on your Windows PC. To make things easier, UMPlayer has built-in codec support and allows you to play files such as MP4, XVID, VOB, Matroska etc.
In addition, there are options to select a media source from a wide variety of choices, including YouTube and other streaming services. When considering all this, UMPlayer is a must-have software for the movie enthusiast in you, especially if you prefer a free media player with effective features that make sense in the long run. And there are skins too – just in case if you want to try new looks.
Supported Video formats: AAC, AC3, ASF, AVI, DIVX, FLV, H.263, Matroska, MOV, MP3, MP4, MPEG, OGG, QT, RealMedia, VOB, Vorbis, WAV, WMA, WMV, XVID.
UMPlayer system requirements: Windows 98/Me/NT/2000/XP /2003/Vista/Server 2008/7
UMPlayer Download Link here.
See also: Top 10 Sites to Watch Free TV Shows Without Downloading
10. SM Player
SM Player comes with a simple interface that makes it easy for a beginner to watch movies on it. You can search on YouTube and play videos. It also has many other features such as changing the playback speed, video and audio filters, audio video equalizer setting and many others. This video player will search and download subtitles from opensubtitles.org.
Also, SMPlayer uses MPlayer as a media playback engine and MPlayer is efficient enough to make the most of your multimedia material and thus improve the viewing experience of movies. And, yes, it's free and open source!
Supported Video Formats: All popular video formats including AVI, MP4, MKV, H.264 and HEVC
SM system requirements: Windows XP/Vista/7/8 and up.
SM Player Download Link HERE.
here's apkfact.com shared best video player for android.
We hope that our best video players list for windows will help you find the best video player for your Windows PC. If you know of any other free video player that is great regarding features, user interface, and support, do not share with us and we will add to the list after reviewing it.