Finding Windows 10 Product Key with CMD
Windows product keyIs a 25-character code used to activate Windows. Windows 10 product key looks like this:
ÜRÜN ANAHTARI: XXXXX-XXXXX-XXXXX-XXXXX-XXXXX
Learning Windows 10 product keyThere are many ways of. We are unscheduled, the shortest and simplest method How to find Windwos product key with CMD we will tell.
Windows 10 product key find CMD
As with many processes on computers with Windows operating system, the Windows 10 product key learning process is also Via Command Prompt you can easily.
Windows and R

pressing the keys simultaneously

Run

to screen

cmd

in summer.
In the command line screen that opens, paste the following code.
wmic path SoftwareLicensingService get OA3xOriginalProductKey
Windows 10 product key learning program
With Nirsoft ProduKey software, you can easily find out the OEM key or the product key in the Windows operating system installed later.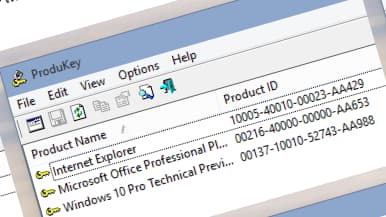 Also with this software Like Adobe and Microsoft Office You can also access the product keys of the programs. If you are going to install Windows with an external switch or a driver, the software will help with this as well.
.:: Nirsoft ProduKey İndir ::.
Last updated: January 7, 2021

Post Views:
54