How To Fix Windows 10 0x8024002E Error?
In this article, Windows 10 that appeared during the Windows update error 0x8024002EWe will include the solution of .
What is the 0x8024002E error, why does it happen?
0x8024002E warningmeans that the windows update service is blocked or not running.
"There were some issues installing updates, but will try again later. If you continue to see this and want to search the Web for information or contact support, this might help: (0x8024002e)" appears with an error message.

0x8024002E problemIt can be caused by many problems such as malware infection, network problems, antivirus software conflicts.
How to solve the 0x8024002E error?
0x8024002E error code You can try our solutions below.
Disable AntiVirus software
If you have an antivirus program installed on your PC, the first step should be to disable the antivirus.
Edit the Registry
By modifying the Windows Update Registry 0x8024002E problem can be resolved.
Windows + R pressing the keys at the same time run open the window and regedit typing OKPress . The registry editor will open.
Here HKEY_LOCAL_MACHINE  Software Policies Microsoft Windows WindowsUpdate open it by double-clicking and Value data change it to 0.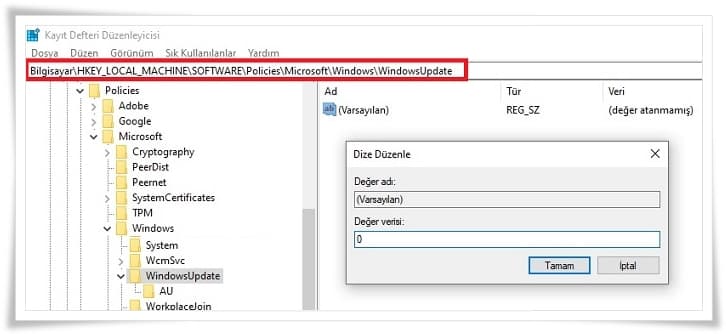 Finally, if the above solutions didn't work
Windows + R pressing the keys at the same time run open the window and CMD Type Enter.
Run the following commands in order in the command window that opens.
SFC /SCANNOW
DISM.exe /Online /Cleanup-image /Scanhealth
DISM.exe /Online /Cleanup-image /Restorehealth
error 0x8024002E It will disappear after these methods.
If you see the error 'Unhandled exception has occurred in your application' when your Windows computer is turned on, you can find the solution for this error. in our article here You can try the methods we covered.