How to Recover Deleted Photos on iPhone?
iPhone'da deleted photosYou can restore video or video with just a few taps. Photos or videos you accidentally deleted Recently Deleted You can find it from the album and bring it back.
Recently Deleted photos and videos in the album 40 days preservation they are made. You can recover deleted videos or photos within 40 days.
How to restore deleted photos on iPhone?
iPhone'da deleted photos or to restore videos;
iPhone Photos by opening the page Albums Tap the section.
Here Recently Deleted Find the photo or video you deleted by opening the section.
Finally Save Tap .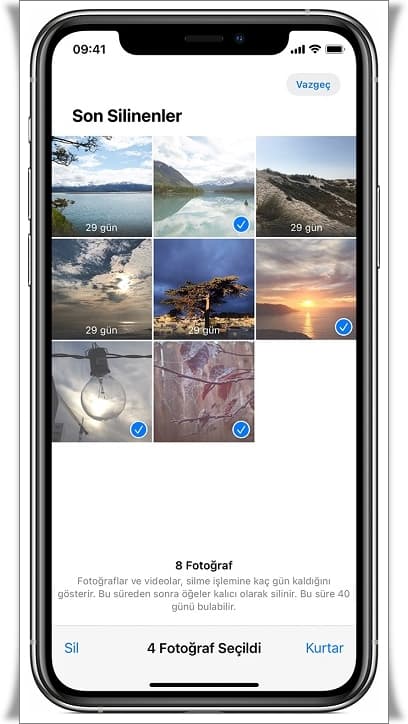 Deleted photos and videos recently deleted If it is not in the folder, the files are permanently deleted. In such a case, if the iPhone has been backed up to iTunes or iCloud before, it should be backed up. do not come back operation can be done.
Recently deleted It is also possible to recover completely deleted photos and videos that are not included in the album using 3rd party applications.
factory reset iPhone so iPhone reset process will help you fix your iPhone or iPad crashing or freezing, or if you have problems that you can't identify. Well What will be deleted when iPhone resets all settings?
Frequently asked questions about deleted photos and videos on iPhone
Can recently deleted files be recovered on iPhone?
You can restore photos or videos that you accidentally deleted by finding them in the Recently Deleted album.
Where is the recently deleted folder located?
Open iPhone Photos page and tap on Albums section, you will see Recently Deleted section.
Do deleted photos stay on the phone?
Photos and videos in the Recently Deleted album are kept for 40 days.
Last Updated: July 13, 2021