Huion pen pressure not working 8 suggestions for solution
Huion pen pressure not working issue can be caused by a number of reasons, from outdated drivers to incorrect settings.
You can make the pen pressure work again by changing the settings in the Huion software.
Another quick fix to this problem is to reinstall your drivers and check if everything is connected properly.
Paired with the best painting software for Huion, the Huion tablet can take your drawing skills to a new level. Creators have become more and more accustomed to this premium tab, as it allows them to perfectly recreate their vision and imagination.
However, users are starting to complain that the Huion pen pressure is not working. Reasons range from corrupt or faulty drivers to enabling wrong settings and some unknown reasons.
Whatever the reason, this comprehensive guide includes fixes to get your Huion pen print working again in Photoshop, Windows and Mac. Keep reading to find out more!
Why does the pen pressure not work on the Huion H420/H640P/GT 191?
This issue can occur if your tablet is not properly configured, so you need to open the configuration software and make a few changes to fix it.
Users have reported problems in Photoshop, but the problem does not appear in other software, so you might consider using it instead.
Outdated drivers are a common cause of various issues and users have reported pen pressure issues on Kamvas Pro 16 and Kamvas 13 models as well.
Fortunately, this is easily fixed and our guide will help you with that.
How to fix Huion pen pressure not working in Photoshop?
1. Activate Windows Ink
Launch the Huion tablet interface on your PC and click the Stylus Pen tab in the left pane.
Check the Enable Windows Ink checkbox.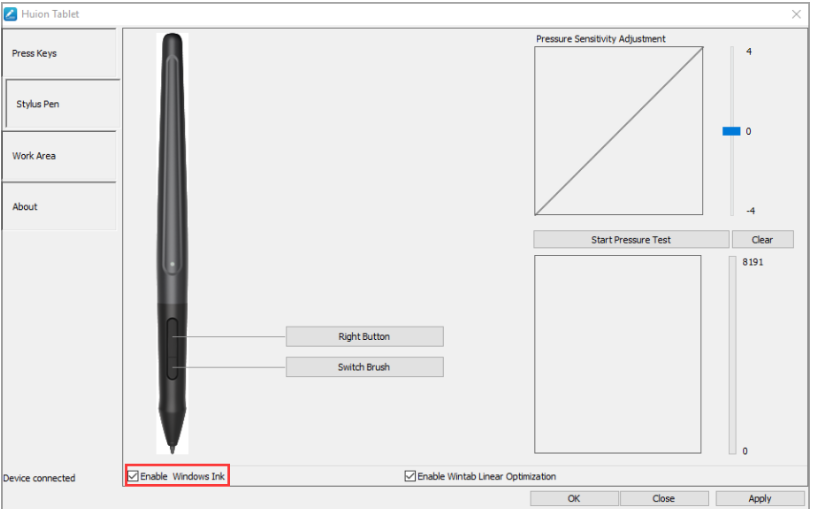 Finally, click Apply and then OK button to save the changes.
In previous Photoshop, as in 2018 and earlier, disabling the Windows Ink feature helps resolve brush lags and other issues. The only trade-off is the lack of some drawing tools.
However, in 2020 and above, you need to enable Windows Ink to have a chance to use the Huion tablet pen pressure.
Finally, if you've created a PSUserConfig.txt in the past to force Photoshop to use WinTab instead of Windows, you'll need to delete this text file to fix the Huion pen pressure not working issue.
2.Use another compatible software
If you still can't get the Huion pen press to work after trying the fix above, you should try another creative software in Clip Studio Paint for a change.
Clip Studio Paint is stunning software designed specifically for drawing and painting. It has a natural brush feel far beyond anything you've experienced in other graphics software.
The powerful brush motor allows you to recreate your vision stroke after each stroke as you imagined. What's more, it has a free trial period that will let you see what you're getting before you decide.
However, you will need to upgrade to the Pro version to use it with a Huion tablet. But with sensing up to 8192 pen pressure levels, you can rest assured that you'll never experience Huion pen pressure work again.
How to fix pen pressure not working on Windows PC?
1. Update the driver
update manually
Go to the Huion website and enter your tablet model in the search box.
Select Windows as the OS and Driver as the Category.
Click the submit button and wait for the page to load.
On the new page, scroll down and click on download before current update.
Now go to the Downloads folder and extract the contents of the downloaded zip file.
Open the folder you just extracted and double-click the Application file to open it.
From here, follow the simple on-screen instructions to complete the update.
It is important that you download the full driver update for your Huion tablet model and computer. Otherwise, the driver will not work.
2. Disable sleep mode
Press the Windows+ key to open the Settings app.
Select the system option.
Click on the Power & sleep option in the left pane.
Select Additional power settings under the Related settings section.
Click on Change plan settings in front of your preferred power plan.
Click the drop-down button in front of Put the computer to sleep and select Never.
Finally, click the Save changes button to commit the changes.
3. Uninstall and reinstall the drivers
Press the Windows key and type control panel. Select Control Panel.
Click Programs and then Programs and Features.
Select the file associated with any Huion tablet and right-click on it.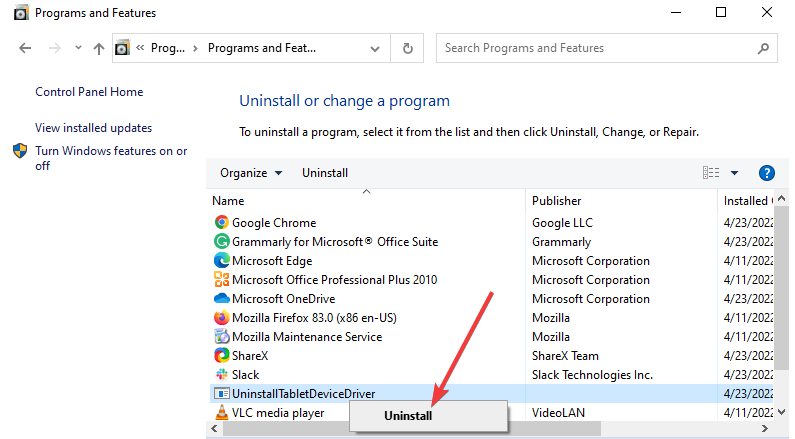 Select the Remove option. Do this for all other Huion tablet files.
Huion pen pressure not working issue could be caused by a faulty driver. The only solution here is to uninstall and reinstall the driver.
After you have completely uninstalled the driver, you can reinstall it with the disc that came with your tablet or follow the steps in Solution 1 above to reinstall manually.
How to fix pen pressure not working on Mac?
1. Restart the computer
Sometimes the simple fix is ​​best. If the Huion pen pressure is not working on Mac, you need to restart your PC and restart the tablet interface.
This fix can be especially helpful if your tablet driver is experiencing problems and is preventing it from working properly. If that doesn't work, you can move on to the next fix.
2.Unplug and plug in the tablet
Establishing the correct connection between your Mac and Huion tablet is important for the pen press to work properly. Sometimes, the USB port to which you connect the tablet may be faulty.
Therefore, you should try disconnecting it from the current USB port and connecting it to another port. This has been proven time and again to fix the problem.
3.Give everyone read/write access to the tablet drive directory
Locate the tablet driver folder.
Right click and select Get info.
Go to Sharing and permissions and click the lock icon.
If necessary, enter your password.
Set the privilege to Read and write and save changes.
It can be frustrating when the Huion pen pressure doesn't work as you may not know why. Fortunately, it's not the hardest problem to solve, as our numerous fixes show.
What other problems can occur with Huion tablets?
Pen pressure issues will make your tablet almost unusable and users have also reported the following issues:
Huion pen pressure is too sensitive: This is caused by a bad driver or configuration settings.
Huion pen pressure not working: If your pen is not working, the tablet will be almost useless. In such a case, we recommend that you check your device for hardware damage.
Huion tablet not working on Windows 10: In worst case, your tablet may not work at all. If this happens, check if everything is connected correctly and update all your drivers.
It is important to note that some Windows fixes such as driver update may work on Mac and vice versa.