First of all, let's examine our device and take a closer look at its features.
High Speed ​​Wi-Fi: 300Mbps wireless transmission speed is ideal for both bandwidth-demanding tasks and basic tasks.
Wide Coverage Area: Two omnidirectional antennas and 2 × 2 MIMO, strong Wi-Fi signal and reliable connections.
Multiple Mode Support 4 in 1: To meet any networking need Router, Access Point, Range Extender and WISP supports modes.
Parental Controls: Manages when and how connected devices can access the internet.
Guest Network: Provides separate access for guests, while securing the host network.
Clear HD Image Streaming: IPTV to optimize the flow IGMP Proxy / Snooping, Bridge and Tag VLANsupports.
IPv6 Support: IPv6 (with the latest Internet Protocol version 6).
Of the device range extender You can perform the installation by following the steps below.
Before installation, configure the physical connection of the device as shown below.
After connecting to the device, opening a browser and entering the address line tplinkwifi.net by typing Enter Let's press the key.
To access the device interface settings, create a password from the page that comes up. After creating a password "lets get started"Let's click.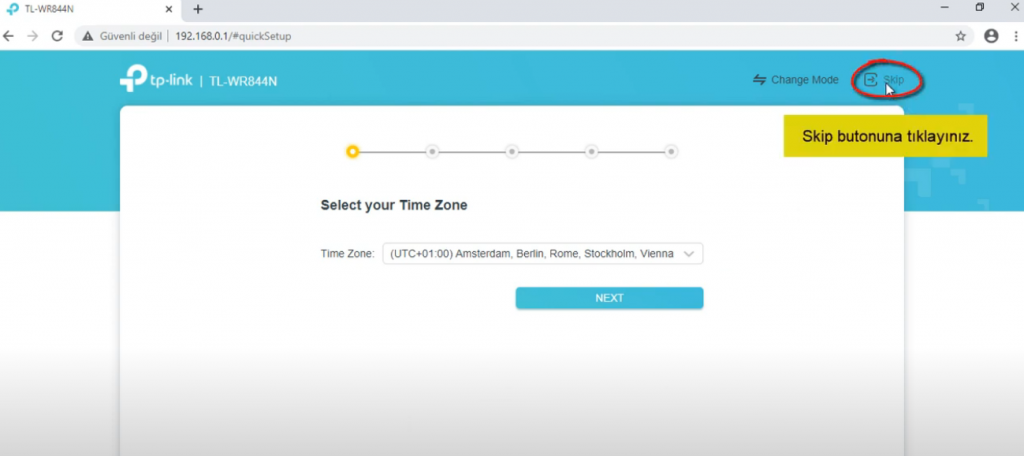 In the incoming page, at the top right Skip (Atla) We click on the button. Next coming quit the quick setup on the error page quitWe click on.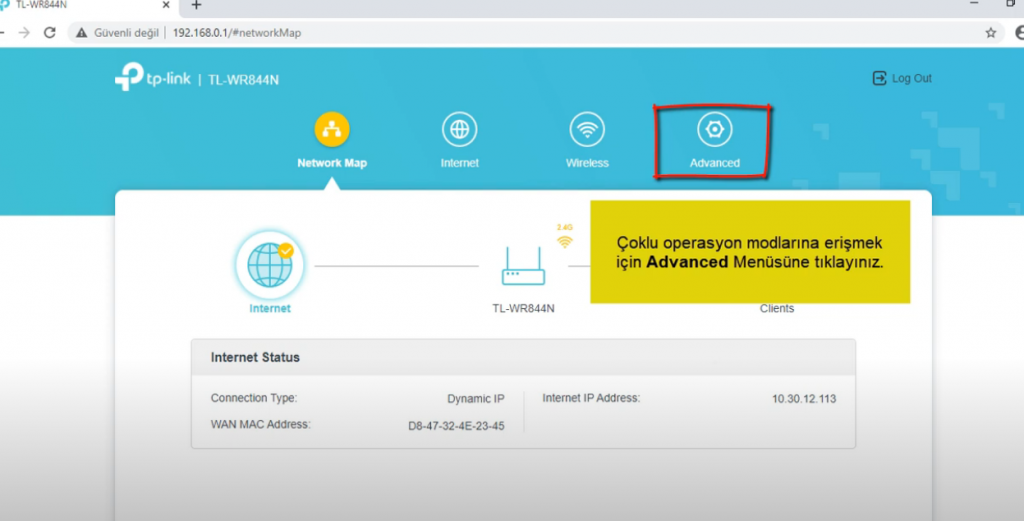 To access multiple operation modes, click on the advanced menu at the top right of the page, click on the operation mode option from the next section, check the Range Extender Mode section and click the save button and restart the device by clicking the incoming reboot scheme. When the device restarts, the interface access address will change. You will be redirected to the domain name tplinkwifi.net to access the interface.
After selecting the acces point mode, if your internet cable is plugged into the wan port of your device, you can access the device interface via tplinkwifi.net. If the internet wireless is not connected to the wan port, you can log in with 192.168.0.254 ip address to access the interface.
Type your access password to the interface and click the log in button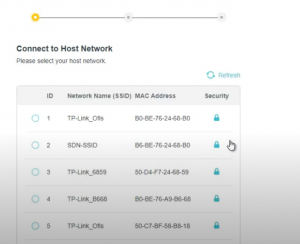 Find and mark the wireless SSID broadcast name you want to connect to in the scanned list, let's type the Wi-Fi password of the wireless SSID name connected to the incoming password section and click the arrow, then configure the wireless network name and password from the following page or click the "copy host ssd" option, and you can use it by copying its password.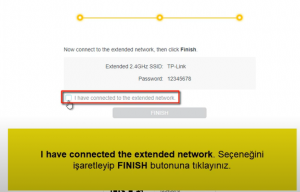 We check our settings from the coming page and click the save button and wait for the settings to be saved. Check the I have connected the entended network option and click the FINISH button. Then all you have to do is check whether you are registered for the settings.
The post TL-WR844N – Range Extender Modu Kurulumu first appeared on TeknoDestek.