What is a Certificate of Endurance?
Last updated: November 10, 2020
Durability certificates have begun to be issued for many products that have been recently launched. So what is endurance certification, what does MIL-SPEC-810G do?
What is a Certificate of Endurance?
Military Standard ie MIL-STD or better MIL-SPECIs a standard used by the United States Department of Defense for measuring the durability of equipment. The most prominent endurance certificates MIL-SPEC-810G certificate.
What is MIL-SPEC-810G?
MIL-SPEC-810G , ENVIRONMENTAL ENGINEERING CONSIDERATIONS AND LABORATORY TESTS is a series of tests designed by the US military to test the use of equipment limits (environment) or transport (shock) in a variety of conditions. Testing varies depending on the nature, size and weight of the equipment being tested.
When extreme operating conditions call for robust technology, equipment manufacturers rely on testing standards such as MIL-STD-810G (Mil-Spec).
MIL-SPEC-810G dablight tests
Products with MIL-SPEC-810G certification are tested against almost any risk. In order to have this certificate, you must pass twenty-nine different tests successfully.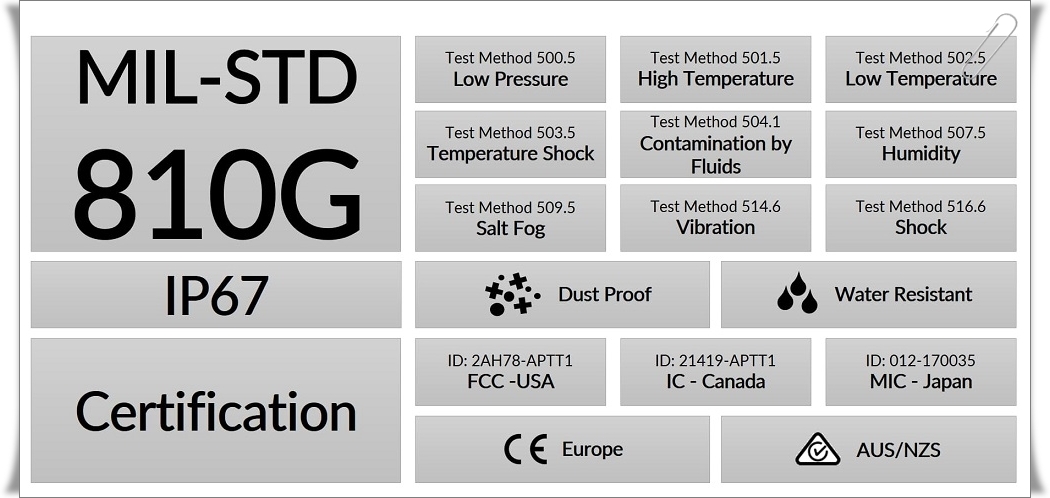 Some of these are as follows:
Extreme Temperature Resistance
Resistance to Extreme Cold
Shock Resistance
Drop Resistance
Bullet Durability
Freeze / Thaw Resistance
Acid Resistance
Resistance to Flammable Gases
Impact Resistance
Moisture Resistance
Today, a significant number of devices that have this certification do not succeed in all of these twenty-nine tests, at least in everyday use. The reason behind this is that the company doesn't need to prove that it has done any of these tests.