Last updated: November 6, 2020
You can reach more detailed information about the device on your Android tablets and phones, and you can do many operations. Android phone codesWe will discuss this in this article.
Android All of the phones have some codes that you can look at some details or make system changes. "Android Secret CodesYou can access the details of these code systems, which are called as ", by entering the codes mentioned in the call section of the phone.
What does the USSD code mean?
USSDThe 'back doors' of phone software that allow users to access certain operator or device settings that cannot be accessed from standard device settings with the codes they enter on the keypad. USSDIs short for Unsctructered Suplementary Service Data. In our Turkish Unstructured Supplementary Service Information It is used to mean.
What does the USSD code do?
Using these codes, you can communicate with service providers' computers or explore the features behind your device.
How to use Android codes?
Most of the time, it will be enough to log in to the dialing screen you use when calling a person and enter the codes below on this screen. These codes are usually
starts with or (#) and again
Ends with or (#).
You do not need to be connected to any internet network to use codes of the Android operating system. Just type the codes in the search screen of your phone.
Android Calling Codes General Test code
Code: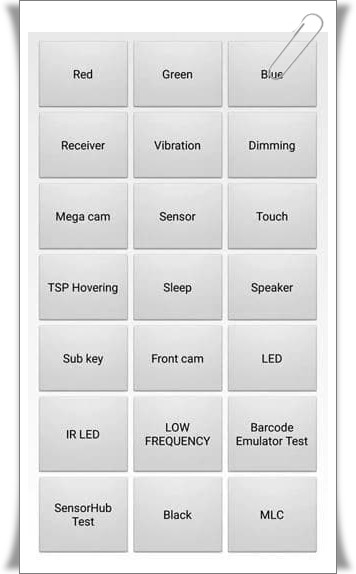 By dialing this code, you can get information about whether the functions on your smartphone work as expected. You can test the screen, sensors, vibration and much more in the library here. Still, we observe that it doesn't work on every smartphone. For this reason, you may want to consider getting help from various third party apps to control your smartphone.
Android Calling Codes Area Mode code
Code:
*3001#12345#*
By dialing this code, you can access various online information about the local network and base stations. Possibly knowing about the RSSi measured by the local base station won't work for you, but it's fun to tamper with. IMEI find code
Code:
*#06#
You can view your smartphone's IMEI number with this code, which you can use on all smartphones. It is helpful to keep the code in mind as this can be useful in a variety of situations. Also, do not forget to write down this IMEI number. Call forward control code
Code:
*#67#
This code allows you to see which number the calls are forwarded to when you are busy or when you reject calls. By default, you'll likely see your carrier's voicemail service redirected. You can change this setting from your smartphone's settings app, your carrier's website or from customer service. Caller ID Hide code
Code:
#31#
If you apply this code before the phone number of the person you are calling, the other party will display the caller as 'Unknown Number'. Example implementation is like # 31 # 05300000000. Of course, let's remind you that there are some alternative methods for this. You can access this from the link below. SMS Message Center code
Code:
*5005*7672#
This code will tell you your message center number by text message. I have no idea why you need this information but here it is. Call Waiting Setting code
Code:
*43# / #43#
With this code, you can activate the call waiting setting when you talk to someone else. The first code will activate, while the second code will turn off the setting.
We have come to the end of this guide we have prepared for you. So have you tried the codes on the list and how many of them worked on your smartphone? Do not forget to share your opinions on the subject with us from the comments tab below.
Battery Status Check code Code: * # 0228 # Applicable on almost any phone
*#0228#
If you enter the code on the search screen, you can get detailed information about your battery status.
You can access all technical data of the battery, especially the voltage status.
GPS Test Home Code: * # * # 1575 # * # * GPS, which has become the most used feature of smartphones today. *#*#1575#*#* or
*#*#1472365#*#*
You can test it by writing the code.
WiFi Test home Code: * # 232339 # If you think there is a problem with your Wi-Fi connection *#232339#, 526#*#*#*#* or
528#*#*#*#*
You can test it with one of the codes and see if your phone has any problems with the WLAN network.
Bluetooth Test code Code: * # * # 232331 # * # * How is your bluetooth connection like with GPS and WiFi and if there are any problems?
*#*#232331#*#*
You can test it with the code.
Returning to Factory Settings (Hard Reset Code) Code: * 2767 * 3855 #
*2767*3855#
You can reset your phone to the first day by returning to the factory settings using the code.
Device Software Refresh (Soft Reset code) Code: # * # 7780 # * # * If you want to do a software reinstall without losing your data
#*#7780#*#*
You can use the code.
Device Version Control code Code: * # 1234 # If you want to check the software version on your phone when necessary
*#1234#
You can use the code.
General Test Code Code: * # 0 * #
*#0*#
By entering the code you can see all the tests you can test directly.