IOS downgrade to revert from iOS 15 to iOS 14 (iOS 15 Downgrade) you can do the operation. In our article, we explain the easiest method to get rid of the iOS 15 beta version.
Downgrade from iOS 15 to iOS 14 (iOS 15 Downgrade)
Before you start the Downgrade from iOS 15 to iOS 14 Make sure to backup your iOS device.
iOS 15 The simplest way to get rid of the beta version is to remove the beta profile from your phone and wait for the new update to come. For this;
Settings > General >VPN and Device Management >iOS 15 & iPadOS 15 Beta Software ProfileSelect and press the Delete button.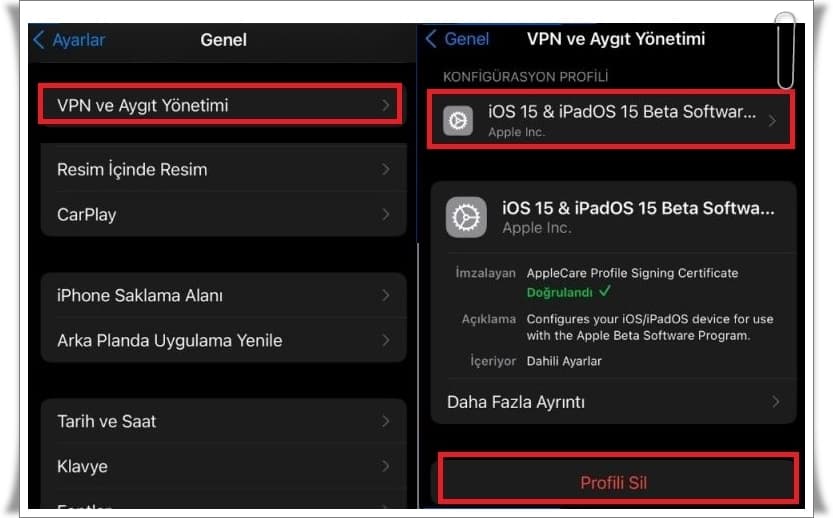 Settings'gives General go to.
VPN and Device ManagementSelect .
iOS 15 & iPadOS 15 Beta Software ProfileSelect .
From here Delete ProfileDelete this profile by clicking .
Although this method takes some time, it will fully restore your device to the old version.
Other method;
iPhonePut your in recovery mode. recovery modeFor help with importing here you can visit.
After the process, an icon will appear on your screen, indicating that you need to connect the phone to the computer. Mac if you are a user Finder'and, PC if you are a user iTunesFind your device from For help with the process here you can click.
In front of you on the screen Update/Restore/Cancel There will be 3 different options. From here ReloadSelect .
At this stage, the device will ask you if you are sure you want to restore your phone. Here Restore and UpdateClick .
At this stage, the device tells you that your phone iOS 14.6It will inform you that it will be updated to . Next Click the button to go to the next step.
In the final stage, you must accept some licenses and agreements.
After this process iPhoneYou will receive a message that the software has been installed for your . The process usually takes 15 minutes. This time may differ depending on your device and internet connection.
After the installation is complete, you will receive notification that the new software has been installed on your device. At the same time, your phone will reboot 1-2 times during this time, just like the software update.
After all these processes are completed, your device will boot into a reset.
To restore old information;
On the installation start screen Manually Set Click the option.
At this stage, the device Wi-FIt will ask you to connect to the i network.
You then choose where to restore your information.
After making the selection Apple IDYou need to enter your ', password and code transmitted to your computer.
If you have made more than one backup recently, you can restore the one you want. If your backups iOS 15 If there is one that is compatible with the version, unfortunately you cannot install it.
After choosing the backup, the system will install it on your phone. No longer iOS 15 you will be back to your previous version before installation. We would like to point out that the restoration of backups takes a few minutes.
Last Updated: July 5, 2021