Last year, WhatsApp became the largest encrypted messaging network from end to end of the story by deploying another layer of security for its billions of users. Since Facebook acquired WhatsApp, now it has finally set up end to end encryption Secret Conversations feature to its 900 million users of Facebook Messenger.
What is Secret Conversation?
 In this encryption (end-to-end), users can ultimately secure their information. Nobody can break the encryption, not even the Facebook. You can program a timer from 5 seconds to 1 day (timer start when the person's message seems), for self-destructive messages that can be activated from secret messages.
What is the Importance of Secret Conversation?
If you socialize (everyone does it) then your privacy is threatened by hackers, online marketing specialists, and even governments. So to hide your personal life online from prying eyes, you need end-to-end encryption that allows you to send and receive messages in a way that no one even the company itself.
The "Secret Conversation" feature is available only in the email application and not for the desktop or browser chat. In the same secret conversations, users can send private data that will autodestruct after a particular period.
With secret conversations, you can send:
Secret conversations don't support:
Group messages

Gifs

Voice or video calling

Payments
How to Activate Secret Conversations (Facebook Messenger Secret Conversations)
Enabling secret conversations is easy to perform the following steps, and you are in.
Step 1. Connect your device to the Internet and launch the Messenger app. There you will see previous conversations, open the chat of the person to whom you want to send a secret message.
Step 2. Tap the profile icon in the upper right corner of the app that will take you to your profile and your Messenger profile.
Step 3. If your messenger is up to date, you will see an option "Secret Conversations" after photos & media.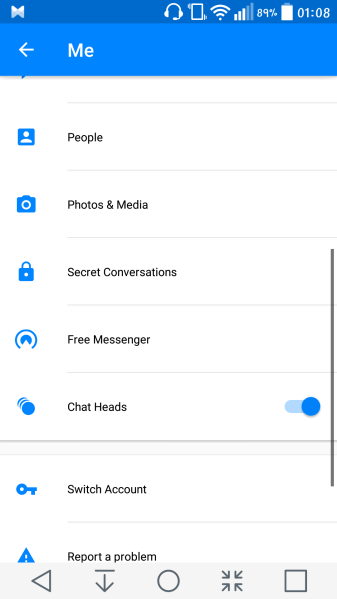 Step 4. Go to this option, and you will see a button toggle, click the button.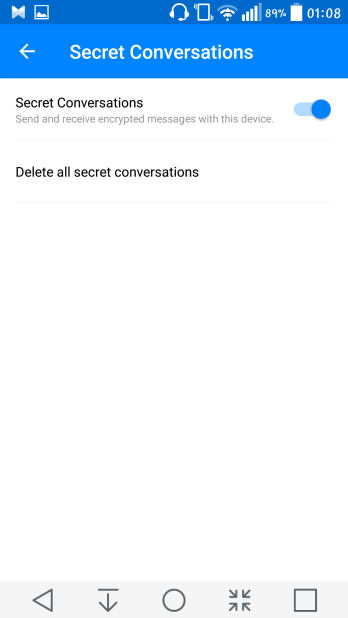 Step 5. Now, it will ask you for your permission to "Enable" to press it to activate secret conversations.
It is enabled, but now you can not send the secret message or Self-Destruct messages directly. Continue reading
How to Send Secret Messages by Facebook Messenger Secret Conversations?
To send secret messages, you must access the Messenger profile of the contact you want to send Secret Message instead of your profile.
Open the contact's chat to which you want to send a secret message or a self-destruct message.
Click the "i" button in a circle that will take you to the contact's Messenger profile.
Under the Nicknames option, you will have a new option called "Secret Conversation".
Once you press the option, you can see a new chat section for the contact.
This is all you need to know, now you can send your personal information and secure information such as bank details or ATM, chat with someone you do not want anyone to see without any risk.
How do I remove all secret Messenger conversations from my device?
You can delete all secret conversations from your device at the same time. Remember that deleting a message or conversation from your device will not remove it from your friend's device. You can not delete messages sent or received from someone else's device.
To delete all secret conversations from your Android/iPhone or iPad device:
From Home, tap profile icon
Scroll down and press Secret Conversations
Touch Delete secret conversations
Touch Delete All
Keep one thing in mind, and end-to-end encryption does not mean your tracks are entirely clear of espionage agencies. Because Facebook still saves and stores metadata on your calls and messages that may reveal some of your personal information, this data is delivered to the government whenever necessary.