Full Support for Education from Apple 200GB gift!
2020-2021 academic year is starting… The eagerly anticipated new lesson hours open the door to unique experiences for children and young people to grow their creativity with brand new knowledge. Creativity is a powerful skill that makes its effects felt in all areas of life. It is of great importance to develop and exhibit. At this point Apple's One of their basic philosophies is undoubtedly creativity.
Creativity is in every child and young person. And nurturing this creativity is one of the most important tasks of educators. Creativity enables students to communicate better and develop more original solutions to the problems they will encounter. It prepares them both to be successful today and to shape the future. Apple has been helping teachers unleash their students' creativity for 40 years. And today there are more ways than ever before to achieve this.
Appleto help you create fascinating learning experiences. It offers not only powerful products but also effective tools, inspiring content and teaching programs. All students using Apple products have unlimited freedom of expression. iPadis simple enough that anyone can master it right from the start, and flexible enough to allow students to follow their own ideas. Mac provides the power you need to tackle the most demanding projects. And with the complete suite of apps designed by Apple to boost creativity Both iPad and Mac offer kids an environment as limitless as their imagination.
Writing code is an essential skill for students to succeed in a future shaped by technology. Lessons, teacher guides, and apps on iPad and Mac make it easy for you to teach code in the classroom. Because, according to Apple, writing code is not an activity outside the curriculum, but a part of the basic curriculum.
Developing programs that help teachers learn from each other and introduce pioneers in education, Apple also Tips to get the most out of iPad and Mac. It also provides stories and other useful material.
iPadis designed for endless freedom of expression and movement. With great apps and advanced built-in technologies, iPad can be anything students dream of, and with the power it has, it can do anything they can imagine. Moreover, it is so easy to use that students can immediately put any idea they can think of. With touch, swipe, drag and drop gestures, students iPad'i They can start using it from the moment they take them in their hands. Whether they're just learning to pronounce words or graphing trigonometric functions, they can quickly understand how to move text, photos and documents like experts.
Pencil, brush, crayon. Apple Pencil all of these and much more. Advanced pressure and tilt sensors, It can detect even very light effects. Lightning-fast sensitivity provides a flawless and natural experience. Thus, students can do everything from calligraphy to technical drawing, from smearing to erasing, from watercolor to oil painting, as if working with real paper. Moreover, by going beyond the possibilities offered by real paper.
Free 200GB iCloud storage
Apple's service iCloudstores all students' documents and projects securely and keeps them up-to-date, secure and accessible on all their devices. The Files app makes all of this organized and easy to find. Also, now all teachers and students under Managed Apple IDs 200GB of free iCloud storagehas the.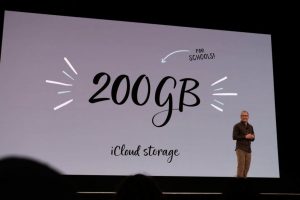 The post Apple's Full Support for Education 200GB gift! first appeared on TeknoSupport.