Background Music for Video: Are you looking for background music with no copyright issues for the videos you upload to your Youtube account? You can download free royalty-free background music from the sites we present in this article.
In this article, we have compiled resources for you to add free music or sound effects to your video content without copyright infringement.
(Free) Non-Copyrighted Background Music! – YouTube
The copyright of music used in videos is a matter that many social networks, especially YouTube, take seriously. If you want to add background music to the videos you intend to upload to your Youtube channel, if the music belongs to someone else, the Youtube site sends you a warning message on the grounds that you violate copyright. This negative situation that you will experience will bother you and will destroy your desire to edit videos.
In this article, we have compiled resources for you to add free music or sound effects to your video content without copyright infringement. All of these free music is suitable for use on Youtube videos. You can add it as background music to your video, you can make a cover or just download and publish the music here.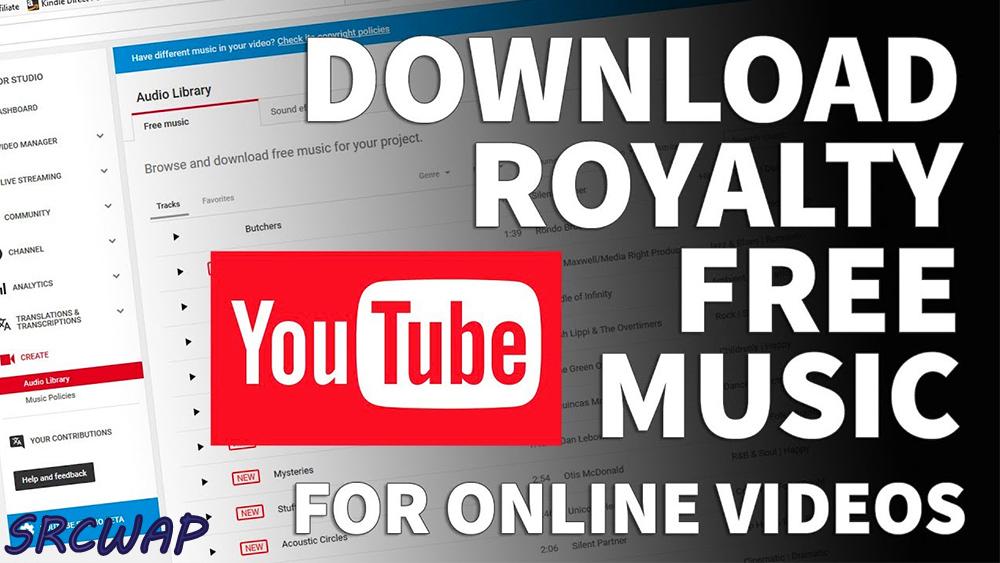 We used a ton of free songs available in YouTube's extensive audio library. Their search function allows you to sort by genre, instrument, duration, attribution and even mood. But I like to go with the popularity filter which allows me to quickly see which songs are the most downloaded by users.
To access YouTube Audio Library, simply click on the link above, or from your YouTube account, go to Creator Studio > Create > Audio Library.
Price range: Public domain & Creative Commons
2. incompetech
In Incompetech, you can access multiple types of royalty-free and free music lists. These tracks can be downloaded in high-quality MP3 format.
3. Freeplay Music
Freeplay Music offers over 50 thousand free royalty-free music to create YouTube videos. Tracks are available for free under the YouTube personal use license.
4. Musopen.org
Nonprofit, a free source for music, Musopen.org offers countless types of audio tracks for a variety of uses. The site also allows users to upload music.
5. Jamendo
All songs of Jamendo are CC licensed, music tracks can be legally downloaded and shared. On this site, anyone can upload music with the license they want, and offer songs to other people using a free or paid license.
6. ccmixt is
ccMixter is a place where you can find free royalty-free background music and remixes created by over 45 thousand musicians that you can download and use for your commercial projects.
7. cctrax
CCTrax has a large music library where you will have no problems with copyright and offers these music to users free of charge. The most important feature of the site is that you can download a single track or a full album without membership.
8. Audio Archive
Audio Archive, a great site with a different collection, has a new and old royalty-free music library. The songs are offered to users in high quality in many formats such as MP3, OGG, M3U and so on.
9. Free Music Archive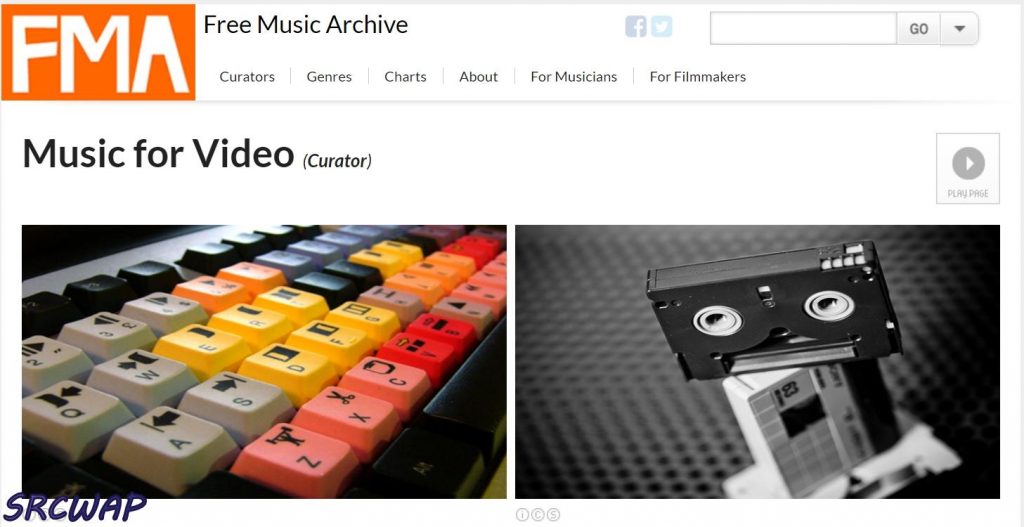 Free Music Archive, as the name suggests, has a free music archive. Free Music Archive (directed by WFMU) is one of the most prolific websites online for discovering a range of curated background music and sounds for all types of content. The music is loaded under CC license and offered to users free of charge.
Price range: Free
10. Hearthis.at
Hearthis.at offers a range of free royalty-free music that can be listened to online or downloaded directly without creating an account .
11. audionautix
AudionautiX allows you to search by music genres and moods. Here you can find audio tracks of countless genres that you can use without paying royalties.
12. teknoax to
TeknoAXE contains over 1300 audio tracks and impressively adds new music to the site every week. Here you can download quality music tracks of all genres.
13. sampleswap
SampleSwap offers original CC licensed soundtracks created by various music creators, but it is not entirely certain whether all the tracks are royalty-free.
14. Mobygratis
Mobygratis offers a large database of royalty-free, royalty-free music produced by independent artists and non-profit filmmakers. The site has over 150 music pieces that make a great music source for any project.
15. Opsound
Opsound inspires musicians to upload their work with a CC license, allowing users like you to download and share music for free. Unfortunately, there is no search feature on the site.
16. Canton becker
Canton Becker contains professional-quality royalty-free and free soundtracks that can be downloaded in high-quality formats. You can listen to these music online or use them in the background to create video games and movies.
17. Bensound
Bensound has a large music collection that can be used in almost any project. You can listen to tracks online or download them directly. You do not have to be a member to listen or download!
18. Scott buckley
Scott Buckley has a large music library for creators and media artists under the Creative Commons license. Scott Buckley can search for music; you can filter your search options by genre, mood, album, and instrumentation.
19. Silverman sound
Silverman Sound hosts some CC-licensed exclusive music that you won't find anywhere else. Audio tracks can be downloaded in MP3 format.
20. The Mutopia Project
Mutopia Project brings together more than 2100 royalty-free music that can be downloaded, copied and distributed for free. Here you can find various styles of music. Music is divided into categories.
21. UCSB Cylinder Audio Archive
UCSB Cylinder Audio Archive offers downloadable music in high-quality MP3 format. You can easily find classical songs, comedy monologues, ethnic and foreign music by searching here.
22. Bandcamp
Bandcamp has dozens of music archives that every user can use without any copyright problems. You can listen to the songs for free or download them in high quality in MP3 or FLAC format.
23. La musice
La Musice offers 50 soundtracks, which can be used in film productions, podcasts, video games, and many other projects. These tracks are ready to be downloaded and shared.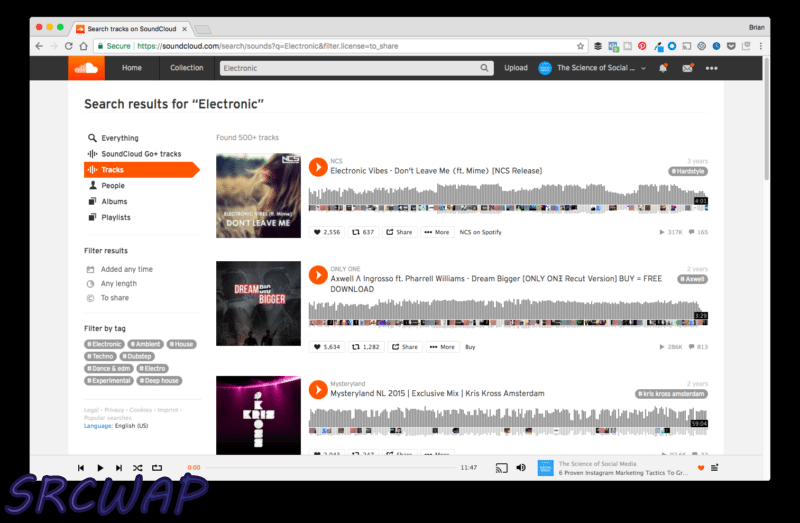 If you're looking for an impressive selection of background music for a video that's more like real music, then SoundCloud is a great option for you. Most, if not all, of the music on SoundCloud is licensed under the Creative Commons license, which means that you are free to use the tracks as long as you follow the guidelines set by the artist (more information on licenses here. below!) It takes a bit of skill and work from the start to use the search function, but once you understand, you will find that there is a ton of good music from artists around the world .
Price range: free
Quick overview of how music licensing works
One of the trickiest parts of downloading and using background music is understanding (from a legal standpoint) where, when, and how businesses and brands can use specific tracks.
Royalty Free
Royalty-free music gives users the right to use copyrighted music without paying "royalties" for the recurring use of the content. In other words, royalty-free music allows the buyer to pay the music license only once and use the music for as long as they want.
Royalty-free images are often confused with "free" music, which is not the case in many situations. The author or artist who composed the music decides what type of license it will have and, therefore, the associated costs.
Public Domain
The public domain refers to all works that are not protected by copyright and can be used without authorization or without having to pay the original author / artist. The public domain essentially offers free use of music, at the discretion of the user.
Essentially, this means that content in the public domain can be copied, distributed, interpreted and displayed for free in public as if it belonged to everyone.
Creative Commons
A Creative Commons is one of several public copyright licenses that enable the free distribution of an otherwise copyrighted work.
Check out the Creative Commons website for complete details on the various types of licenses.
In Conclusion
Have you used any of the above websites to search and download background music for video?
Did we miss one of your favorites?
We would love to hear about your experiences with the video creation process. Do not hesitate to ask me your questions in the comments below. I would like to continue this conversation!