Ways Players Who Have Seized A Pubg Mobile Account By Others
Hi dear 'TeknoDestek' We will examine the steps you need to follow step by step, saying that followers will touch on a very vital point for you today and hopefully it will not happen to you.
PUBG Mobile Increasing its popularity day by day, as the popularity increases and the number of players increases, unfortunately, the people who steal accounts, which we call labor thieves, increase in people who provide fraud and third party software use.
I will explain in detail what you need to do to get rid of this situation.
1) NO ONE GIVES YOU 'UC, BP, SKIN, RP' FOR FREE.
Yes, you have not heard wrong, all the websites we see on the internet are professional works of account thieves who are committed to this business. This work is called 'Fish Bot'. Unfortunately, if you share your account information with the excitement that I will get a free tip, you may have lost your account for a lifetime. This is the first thing you should pay attention to.
2) MAXIMUM SECURITY
Please manage your account with the social media platforms you use on a daily basis. If this is the case, your job will be easier in any attack on your account.
3) fraudulent groups
There are a lot of fraudulent groups in the game lately I have come across many fraudulent players, if I have to say sorry on the mobile part. In this case, believe me, I close the game to leave that server and switch to another server, maybe this will be reflected as points, but if your effort goes to waste, getting points is a more correct and logical choice.
4) WHAT CAN I DO IF MY ACCOUNT IS STOLEN?
Yes, we have come to the most curious subject, if there are people who still use the account, please 'Save Detailed Screenshots of Image, Video, Account Information' about your account, this is a very important detail. PUBG Mobile One of the details required when contacting the officials.
Let's start by recovering defined social media accounts.
My preference is always a 'Facebook'account is defined and'Facebook'If there is a mail service defined in my account, this is definitely'Gmail'is. Gmail account number because it requires the phone number 'Facebook'the one who steals without losing time as the primary means if your account is stolen'Facebook'will recover the account without removing their information.
a) PERSONAL INFORMATION OF MY FACEBOOK ACCOUNT HAS BEEN CHANGED, WHAT CAN I DO?
Guys, this is the hardest part. PUBG Mobile Your account is linked to 'Facebook'account will be by contacting all your friends list to close and close. Unfortunately, when the person changes all the information, it is very difficult to reach.
By calculating this, please additionally define phone number, e-mail address or Game Center login if you are an Andoid or iOS user.
b) MY FACEBOOK ACCOUNT stolen, BUT THE PERSON HAS DEFINED A SOCIAL MEDIA PLATFORM?
In this case, you can get rid of this situation by logging in to the pubg.com address and logging in with the social media account opened by the person who took over your account from the linked accounts section.
c) I tried everything but I could not get a result.
Do not give up, as long as you have the mobile phone, login information and screen shots that you have logged into the game about your friends account, you can get your account back sooner or later.
So first of all clicking here , PUBG Mobile Let's log in to the help center. On the right side of our screen on the screen where we log in CONTACT US Let's click the section.
When we click on this link, we come across a form where we can enter all the details, please fill this form with the correct information.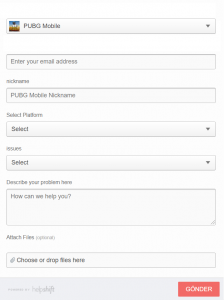 After completing this form meticulously, let's wait for the necessary answer, the answer will definitely come, this style in the years when I played Metin 2 Help Shift forms were very controlled and you could get back even if your account was stolen during the day. This is good news because communicating from within the game is just as easy as diving a camel.
ADDITIONAL SERVICES AND MAIL ADDRESSES
Additionally via Instagram @pubgmobile_tr account and [email protected], and authorized team You can be contacted, this type of channels will help you at this point where you have grievances.
I hope your efforts will not have a pleasant moment for malicious people, we wish you a healthy day.