We have reviewed in the past weeks mi box s after your device mijia we all attracted our attention because of the high resolution and brightness value it gives, as well as the sound performance mijia It really impresses as an entry-level home theater. Mıracast, chromecast or rather all image and sound without the need for cables such as hdmi etc. from cast applications We can say that the device that can receive and use its messages definitely offers us privileged features in terms of ease of use. The device, which has a reflective life of more than 4 years in 5 hours of use per day, finds buyers in the band of approximately 3500 rubles. If you want, let's move on to the installation phase quickly.
First of all, we remove the cable from our box and make the cable connections and put it against an empty wall. If the environment we choose is as dark as possible, it will be easier for us to operate here. After these conditions are met, we can start our device and start the installation with the remote control that comes in the box.
Yes, we get this image in a completely dark environment and as we said at first the setup is almost the same as mi box s, In this screen, we can select the language we want from the language menu.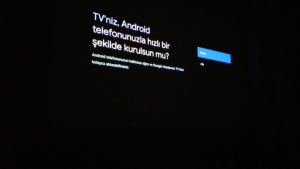 Here we can pair with the phone and connect it directly, If we go step by step, we should say skip here and in the rest we need to connect after installing the device.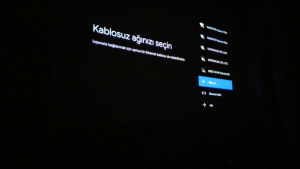 Here we choose our wireless network and after we say forward, we continue by entering our password, this part is important Because when connecting cast applications, we will always have to have the same wifi, and only in this way will we be able to mirror our screens.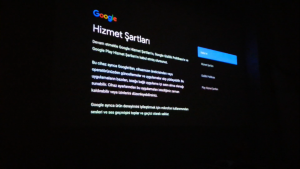 After connecting to the wireless, we approve the terms of service, activate the location services and continue by saying the tutorial is advanced. After this process is done smart It comes to our screen and we can open the application we want here and watch the series or movie we want. If there are things we don't like in the image;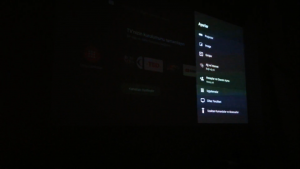 From the settings menu here, we can configure contrast, brightness and other settings. As you can see, the installation takes almost 10 minutes and then our projector is ready for use!