How to Project iPhone Screen to Computer Wired or Wireless?
iPhone screen to computer If you wish, you can plug it in wirelessly and plug it in.
Project iPhone Screen to Computer (Wireless)
LonelyScreen's page clicking here go and "Download for Windows" Press the button. As the size of the LonelyScreen program is small, it will take a short time to install the program.
After installing the application, you may see a Windows Firewall prompt that states that it is blocking access to the application. "Allow access" Click the button and then open the LonelyScreen program.
You will receive a warning about using the free trial, to proceed "Maybe later" Click the button.
Get your iPhone phone you want to mirror on your Windows computer screen. Swipe down from the top-right corner of the iPhone X and later versions open the control center. On older iPhone models, open the control center by swiping up from the bottom of the screen.
When the control center is open, among the options screen mirroring shortcut You'll see. When you select this option, a list of available AirPlay devices will be displayed. You should see your LonelyScreen server listed.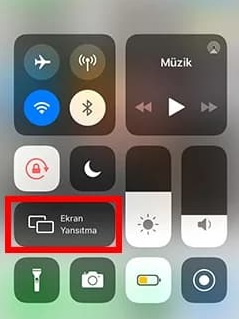 Now all you need to do to start projecting your screen onto your Windows computer Choosing the LonelyScreen server. So you can mirror your iPhone to your Windows computer.
Project iPhone Screen to Computer (Wired)
With Lightning Digital AV Adapter Wired iPhone screen to Computer You can reflect.
The Lightning Digital AV Adapter supports the display of applications, presentations, websites, slideshows and much more displayed on your device's screen with an image quality up to 1080p HD resolution to HDMI equipped TV, screen, projector and other compatible displays.
Just connect the Lightning Digital AV Adapter to the Lightning connector on your device and to your TV or projector with an HDMI cable (sold separately).
Lightning Digital AV Adapter price It is 399 TL. To buy from the Apple Store you can click here.
If you have a smart TV and what you want to do is to reflect the photos, videos, music on your iPhone to your TV, it will be the easiest way to choose iOS applications that provide wireless streaming from the phone. For example; Applications such as ArkMC DLNA UpnP that can transfer media from iPhone to HD TV, PC and consoles over the wireless network.DLNAYou can easily find the keyword by typing in the App Store.