RDR2 Turkish Patch Installation Guide in 3 Steps!
RDR2 Turkish patch installation process Red Dead Redemption 2 It's not that hard for the players. Here is step by step RDR2 Turkishization package installation guide!
In our article we will present RDR2 Turkish patch file only works on PC version, it is not suitable for consoles.
Turkish patchThere is a possibility that your game files may be damaged. Therefore, in order not to damage your game files, make sure to back up the game before installing the patch.
You can play the game in Turkish thanks to the Turkish patch made and published for the Red Dead Redemption 2 game.
RDR2 Turkish patch installation
Firstly RDR 2 Turkish patch pack Does not apply to Red Dead Online. Download RDR2 Turkish patch fileto eat Click here. (The file is 20MB in total.)
Unzip the downloaded .rar file to the folder. (For this

You can use Winrar or Winzip software

.)
Open the file and put all the content inside the file where the game is installed.
By opening the application named RDR2_TR_YAMA_v2_15092021 RDR2 TR YAMA FONT FIX Press the key.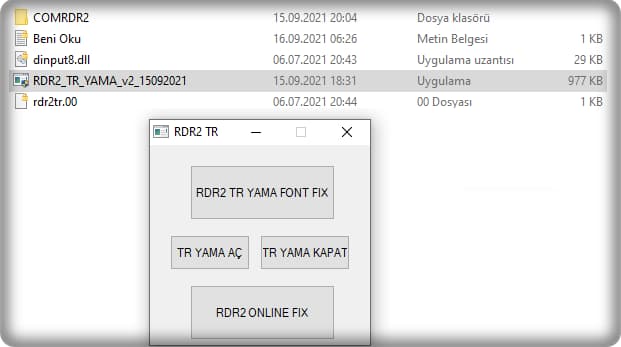 After the installation process is finished, enter the game and check if the Turkish patch is working properly. Downloading and installing RDR 2 Turkish Patch is that simple.
Last Updated: July 26, 2022