How to Create Single Name on Facebook without Proxy
How to make single name on facebook without proxy
Do you want to hide last name on facebook account? Do you want to create a single name account on facebook? or looking for tutorials as for how to make single name on facebook. If you are searching for Hiding last name on facebook Or you may not want to show your last name to someone else on facebook then you are at right place.  
Facebook is where we share each day to the incident of the day with friends, family-chat or status. Facebook is more social media site with millions of daily users just because it has thousands of different features that make Facebook incredible.
So developers keep trying to find bugs in Facebook. I already posted some incredible stuff like View Locked Facebook profile photos and more. But some of them are just spam that can lead to compromising your account. I always suggest each user to use tips that are given by famous blogs. Always try them on first trial account, then original ID.
Single name on fb
Now I'm here, I'll still share incredible stuff to make a single name on your Facebook account. in this tutorial, we will show you how to create single name account on Facebook without using any proxy as like Indonesian proxy. Yes you heard right in this tutorial we will not use any software or proxy to create a single name account this is genuine and working method and it will not harm your Facebook account.
According to the rule, it is impossible to account on Facebook without name. But if you want to make your Facebook profile with first name without using my name so just follow the steps.
See also: How Hackers Can Hack Facebook Account Password
How to create Single name account on Facebook:
Here's step to how to one name in facebook using mobile version.
Visit mobile version of facebook via mbasic.facebook.com
Log in to your facebook account and visit language page. https://mbasic.facebook.com/language.php

Now select tamil language from the given languages.
After selecting Tamil language to visit the account setting page.
Now remove your last name and click on blue button if you don't understand Tamil.
Now enter your password and again click on blue button.
See also: Auto Add All Friends to Any Facebook Group In One Click 2018
That's it now you have created a facebook account with a single name. now again go to language page select English language.
Facebook One Word Name Trick on PC with VPN
After a visitor advised me to add another trick to make single or one-word profile name on the Facebook account.
So follow the steps below without any hesitation (Facebook One Word Name Trick works 100% sure):
Step 1: At first, You need to open Google Chrome browser from your PC/Computer/Laptop/Mac. (Don't have Chrome, Download it).
Step 2: Then add 'GeoProxy' to Chrome extension list. Here is the link GeoProxy,
Step 3: After adding this extension, a sky-blue icon will appear on extension bar, it means extension is added. Now select 'Indonesia' and select any of them.
Step 4: Go to your Facebook language settings and click Edit option then will appear Language Settings Options tab select 'Bahasa Indonesia' than save it.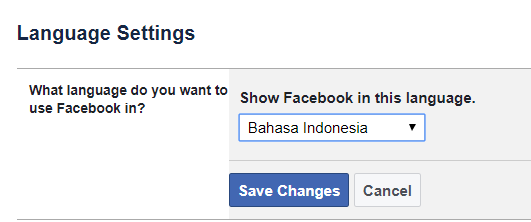 Now you have everything in Indonesian Bahasa on your Facebook, which was really confusing for me. For your convenience, I write the remaining steps in this language.
Step 5: Go to 'Umum' >> "Nama" section and click on Edit
Step 6: Fill in the first box on three boxes with your desired name and leave other blanks. Then click on "Tinjau Perubahan" just below these boxes. Done, you get your desired name.
Step 7: Now it's time to get back on your desired language, just by clicking 'Bahasa' (just follow step 4), then click 'Simpan Perubahan'.