How to Unfollow All Facebook Groups at Once
Hi! SRCWAP viewer! A long time after. I am again back with How to Unfollow All Facebook Groups at Once and with one click. The rate at which friends train you in their Facebook groups without your permission can be so boring. On one of my Facebook accounts, I have joined up to 500+ Facebook groups. I do not know about and the rate I get from notifications of each of these crap groups is so frustrating. Also, don't forget Share Animated GIF Images On Facebook.
As of last year being 2015 and this year 2016 (at the date of publication), I was looking for ways to prevent these notifications from entering, I noticed that going to each of these groups to stop notifications was a waste of time . I was like, damn … WTF have my friends got me in. How can I continue to receive notifications for unnecessary updates. I continued to question myself, and searched the Internet for a solution. I was lucky to find a tho.
The one-click stuff for Facebook unfollow groups is one of the latest tips and tricks Facebook that I will unveil you in 2021. So without much saying, I will quickly guide you through the process. So let's go for unfollowing all facebook groups that's you want:
Unfollow All Facebook Groups at Once using One-click Method?
Step 1. First, download this latest Google chrome extension to run this trick. The name of the extension is Facebook social toolkit. Make sure you are signed in to the Chrome browser, then download the Toolkit For Facebook extension from here.
Step 2. After that, in the extension, you get so many features outside Facebook unfollow groups, there are paid features and other free features.
Step 3. Once you add the extension to your Chrome browser, sign in to your Facebook account.
Step 4. Now click on the extension, scroll down and click "Delete all Facebook groups at once" under the Facebook removal tools. You will get a pop-up asking you to confirm the deletion, confirm it.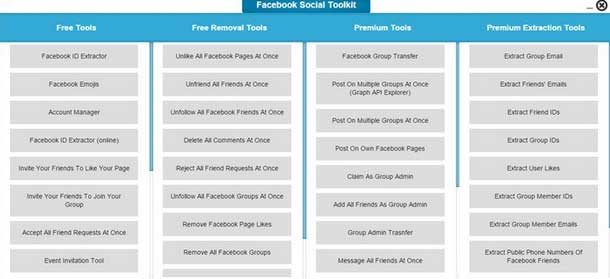 Step 5. It's may take a few seconds or more than a minute. And Remember After doing this. All notifications from all groups will be disabled and you will stop receiving unnecessary notifications from all Facebook groups.
See more:
This is all about how to unfold all Facebook groups at once using the one-click method to Unfollow All Facebook Groups at Once… thanks https://getmyscript.com/ to the nice extension. Stay tuned because I will publish more post as soon as.. 😀